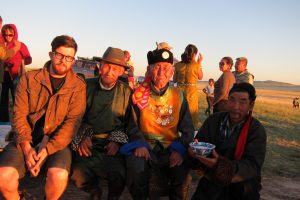 By Asia Pacific Memo on June 20, 2013
Since the end of Mongolia's socialist period (1921-1990) the country has been experiencing a "cultural revival". Post-socialist nationalism permeates private and public life, and deeply colours the way "traditional" culture is imagined. Once religious prohibitions were lifted in the early 1990s, newly constructed Buddhist temples and their monastic populations emerged as sources of authority. Lams (monks) performed rituals to protect Mongolians and the Mongolian state from the uncertainties of the new democratic and capitalist era as much as provide spiritual benefits.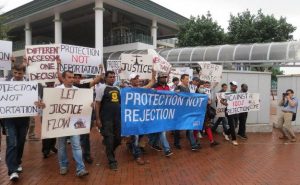 By Asia Pacific Memo on June 18, 2013
Recent demonstrations protesting Hong Kong's zero-recognition refugee policy in April 2013 brought renewed attention to a crisis situation regarding asylum seekers in the territory. Since 2004, 12,300 asylum seekers have filed claims with Hong Kong's Immigration Department asking to be allowed to remain on the grounds that they face torture if returned to their countries, but only one has ever been granted refugee status. Hong Kong's refugee recognition rates are well below the international average of 13.8% reported by the United Nations, and the 20% to 38% recognition rate in liberal democracies.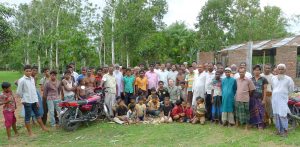 By Asia Pacific Memo on June 13, 2013
Memo #231 By Glen Hamburg – glenhamburg [at] gmail.com An international enclave is a piece of one state's sovereign territory entirely surrounded by the territory of just one other state. Nearly 200 such land-locked islands lie along India's border with northern Bangladesh.  The obscure remnants of eighteenth century tax arrangements, these enclaves (chhitmahals in Bengali, […]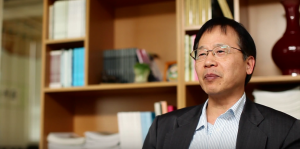 By Asia Pacific Memo on June 11, 2013
Memo #230 Featuring Gerald Chan – gerald.chan [at] auckland.ac.nz Professor Chan, of the University of Auckland, discusses his research on China in global governance. He describes Chinese involvement in world affairs as a new phenomenon, which began with Chinese reforms in the 1980s. This period saw increased interaction between China and other states, and between […]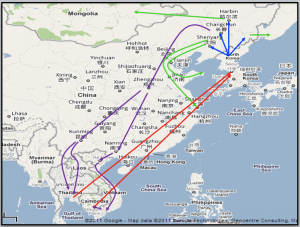 By Asia Pacific Memo on June 6, 2013
Just imagine you're a North Korean living in a small village. You have no one to compare your condition with. One day, you hear about people who've fled to China who are now well off. Some even go to South Korea, a place you know about from smuggled DVDs. You know that if caught, you could be sent to prison and beaten by guards. If successful, such migration promises a better life.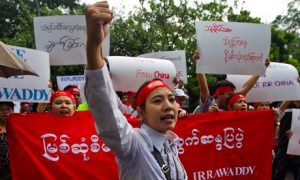 By Asia Pacific Memo on June 4, 2013
Two decades after it began opening up to the world, China devised the "Going Out" strategy in the late 1990s to encourage Chinese companies to operate on a global scale. China's outbound direct investment (ODI) has surged, reaching a staggering total of US$68 billion in 2010—over five percent of global FDI flows. Chinese ODI has targeted all sectors of the world economy, with a marked presence in the resource and infrastructure sectors, and in developing regions like Africa and Southeast Asia where bilateral and multilateral partnerships with the People's Republic are deepening.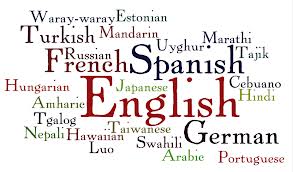 By Asia Pacific Memo on May 30, 2013
Australia is an ethno-linguistically diverse country with more than 15% of people speaking languages other than English, or a heritage language, at home. While learning English can contribute to immigrant students' socioeconomic and educational success, heritage language maintenance facilitates maintaining ties with family and community members unable to speak English, avoiding a potential generation gap in immigrant families. Heritage language maintenance refers to a situation where immigrants continue using their languages in a host society. Additionally, maintaining a heritage language and ethnic identity are interconnected; individuals who lost their heritage languages reported feeling as though a part of their identities were missing. Finally, heritage language maintenance promotes multilingualism in society, which facilitates economic, cultural and political communications among countries.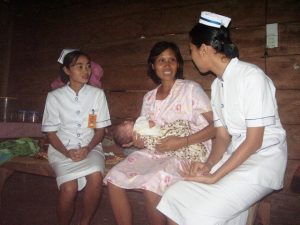 By Asia Pacific Memo on May 21, 2013
Indonesia has one of the highest maternal mortality ratios (MMR) in Southeast Asia at 228 maternal deaths per 100,000 live births—double the Millennium Development Goal target number of 102 for the country in 2015. Lower levels of education and esteem for traditional birth attendants are influencing more than one third of Indonesian women to deliver at home. Women in the province of West Java in particular face a higher risk of maternal and neonatal mortality.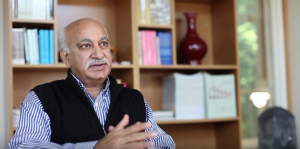 By Asia Pacific Memo on May 16, 2013
Modern India, which emerged out of British colonial rule in 1947 bloodied but unbowed by partition, had two massive challenges: the protection of its unity, and the elimination of poverty. More than six decades later, after surviving serious insurrections both in its North East and North West, India has largely resolved the threat from sectarian secessionism. But it still struggles under the weight of one third of the world's poor. In 1947 this poverty was stark: in the last years of British rule, an estimated three million died of famine in Bengal alone. Such horrors are a thing of the past, but the tragedy of under-nourishment and subsistence-level existence remains a reality for 30% of the population.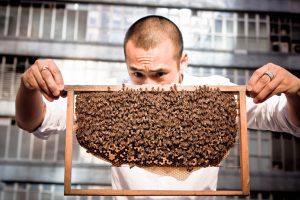 By Asia Pacific Memo on May 14, 2013
We need bees, but bees are dying. This is a global problem, but some Asian cities are finding novel solutions in urban beekeeping.
The humble Apis Mellifera punches well above its tenth of a gram weight. Through transferring pollen, bees are essential to 80% of the food we consume. Furthermore, the economic input from bees is substantial, with pollinated crops accounting for $1 trillion of the yearly agricultural produce sold.