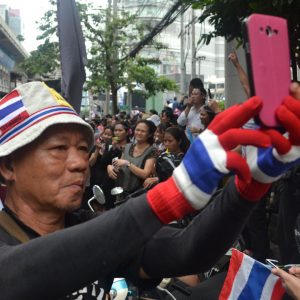 By Asia Pacific Memo on April 12, 2017
Memo #400 By: Aim Sinpeng – aim.sinpeng [at] sydney.edu.au Do social networking platforms like Facebook, Twitter or Firechat improve political participation among the previously disengaged? If so, do they transcend existing socioeconomic divides in political engagement? While some see the rise of online political engagement among youths in North America and Europe, whose participation in […]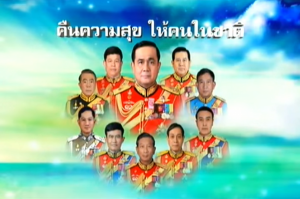 By Asia Pacific Memo on February 5, 2016
Memo #362 By Jacob I. Ricks – jacobricks [at] smu.edu.sg Thailand is one of the most coup-prone countries in the world, having experienced no less than 19 coup attempts since 1932. The prevalence of military interventions casts doubt on whether Thai politicians will ever be able to reign in their armed counterparts. One prominent response to this […]

By Asia Pacific Memo on October 15, 2014
Memo #312 By Kai Chen – chenkai [at] zju.edu.cn In the so-called "Mekong River massacre" of October 2011, 13 Chinese merchant sailors working on the Mekong were seized and murdered by members of the Hawngleuk Militia led by its Burmese leader Naw Kham. Later captured in Laos and extradited to China, Naw Kham was found […]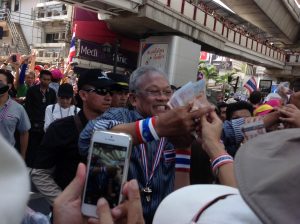 By Asia Pacific Memo on June 10, 2014
Memo #303 By Jim Placzek – james.placzek [at] ubc.ca The key to understanding the current crisis in Thailand is Thai national identity. For decades a government office has been successfully promoting symbols of this identity. The central symbol of that identity is the monarchy. The elite of Thailand, including the military, have been called "the […]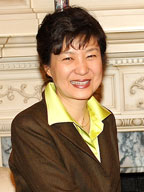 By Asia Pacific Memo on March 11, 2014
Memo #277 By Timothy S. Rich – timothy.rich [at] wku.edu Political life in Asian countries is often characterized as a man's world, especially compared to its Western counterparts. Yet we have also seen increasing political leadership opportunities for women in the region. Since 2000 alone, women have been elected prime minister in Bangladesh and Thailand, […]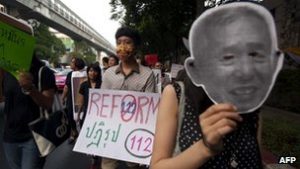 By Asia Pacific Memo on November 27, 2012
Memo #193 – Laws meant to protect the monarchy from "defamation" are increasingly being used to suppress free speech and discussion of politics in Thailand, particularly on the Internet. In the last six years, there has been a surge in prosecution of these "lèse-majesté" cases – some estimated as high as 1,500 per cent.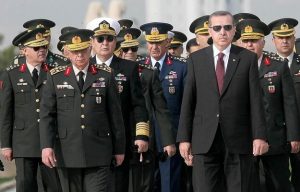 By Asia Pacific Memo on October 9, 2012
Memo #180 – Thailand and Turkey have a lot in common. Both countries celebrate their avoidance of formal colonization by adopting Westernizing adjustments overseen by "modernizing" rulers in the 19th century. Both have followed similar state-led economic development trajectories in the 20th century, only to liberalize after the 1980s. Both are known for military interventions in the electoral process. Both are highly nationalistic and devoted to national myths of development centred around revered figures.
By Asia Pacific Memo on May 22, 2012
Memo #157 – Since the late 1990s, international organizations and NGOs have engaged with labour migrants in the Mekong region. This includes either advocating for migrants' rights, or launching anti-trafficking programs. More recently, the term "safe migration" has surfaced within policy circles and the broader aid community with several organizations implementing "safe migration" programs.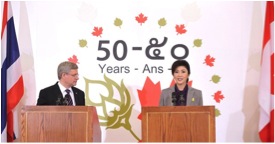 By Asia Pacific Memo on April 12, 2012
Memo #148 – Human smuggling and terrorism – not trade – played centre stage in Prime Minister Stephen Harper's visit to Thailand in March. Although the Thai government was eager to solicit more interest in trade during a visit that marked the 50th anniversary of Canada-Thailand relations, it was left with $7 million (CDN) for an anti-crime program and an "exploratory" talk on free trade.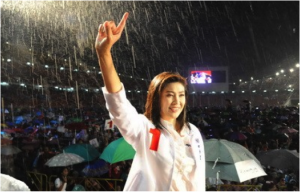 By Asia Pacific Memo on July 14, 2011
Memo #97 – The highest voter turnout in history shows Thai voters still view elections as the most legitimate way to transfer power. 75 per cent of eligible voters participated in last week's election. Pheu Thai took 40 per cent of the vote, gained 265 out of 500 seats, and together with five other parties will form a 300-seat coalition government – an impressive result for a party whose predecessors were ousted by a coup d'état in 2006, twice dissolved, and had their politicians banned from politics for five years.